Samarium cobalt magnet
Samarium cobalt magnets, a type of rare earth magnet, are made of an alloy of samarium and cobalt. Developed from the 1970's, they came as a revolutionary product, initially tripling the energy product of other materials available at the time. They are generally ranked similarly in strength to neodymium magnets, but have higher temperature ratings, higher coercivity and extremely resistant to demagnetization. They can typically be used up to 300 °C. They are brittle, and prone to cracking and chipping. They are available in two "series", namely Series 1:5 and Series 2:17. 
Production Process

Magnetic and Temperature Characteristics
SmCo magnets can operate at temperatures up to 350°C, depending upon the grade and permeance coefficient. Sm2Co17 materials exhibit superior temperature characteristics as compared to the Sm1Co5 types. SmCo magnets have extremely resistant to demagnetization, and good temperature stability (maximum use temperatures between 250 °C and 550 °C).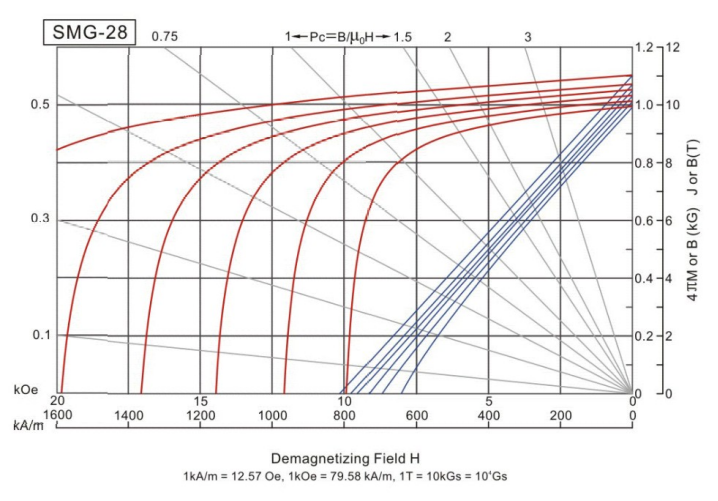 Machining and Dimension
SmCo magnets can be made into block, disc, ring, segment and other shapes. But they are not suitable for complex shape, because SmCo magnets are extremely brittle, and highly prone to chipping and cracking. Because of the manufacture equipments constraint, there is a certain limit range of the dimensions and the mechanism accuracy of magnets. 
Magnetization
Samarium cobalt magnet can be magnetized in any direction as long as it is aligned properly. 
Physical Properties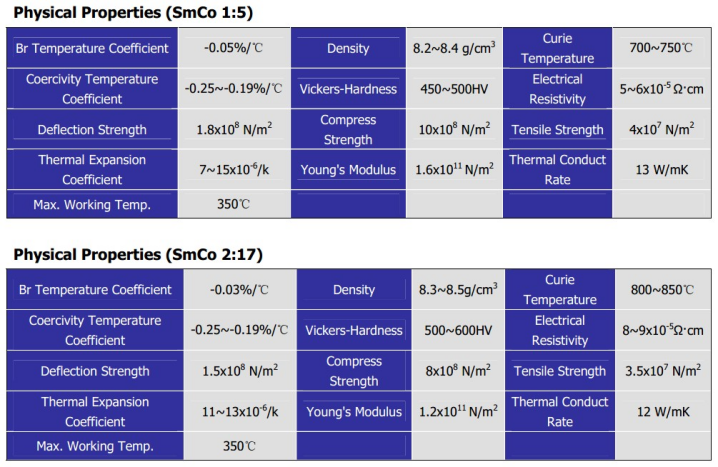 Surface Treatment
The corrosion resistance of SmCo is considered good while that of NdFeB is considered poor. Coatings for corrosion resistance are therefore not generally required for SmCo magnets. We also can offer coatings such as Ni, Zn, or Epoxy if they are used in corrosive environment.
Application
Electric motor,
Magnetic Pump,
Magnetic Sensor;
Traveling wave tube
Switches and relays,
Magnetic resonance,
magnetic bearings,