AlNiCo Magnet
AlNiCo Magnet is composed primarily of Aluminum, Nickel, Cobalt, Copper and Iron. It has good corrosion resistance and high temperature operation. Although other magnetic material offer greater energy and coercivity values, the high remanence and thermal stability of AlNiCo make it the most cost effective material for certain applications, like generator, microphone lifting, voltmeters and measuring instruments. It is widely applied in high stability fields as aerospace, military, automobile, and security system.  
Production Process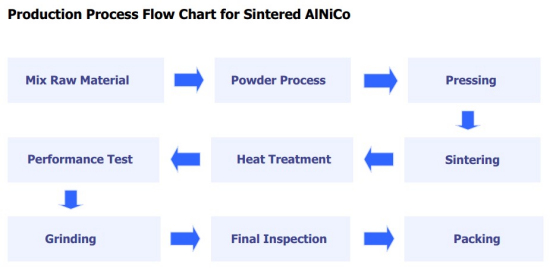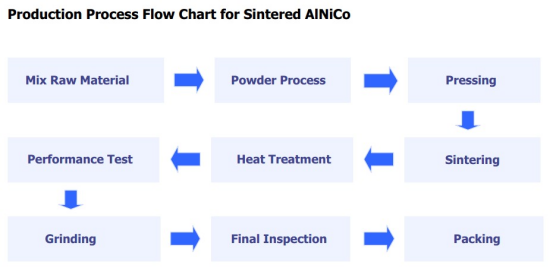 Magnetic and Physical Properties
AlNiCo magnets are manufactured through either casting or sintering process. Cast AlNiCo magnets are very hard and brittle. Machining or drilling can not therefore be accomplished by ordinary methods. Holes are usually cored in at the foundry. Magnets are cast or sintered as closely as possible to required size so that abrasive grinding to finish dimensions and tolerances is minimized.
Cast AlNiCo 5 is the most commonly used of all the cast AlNiCo magnets. It combines high indications with a high energy product of 5 MGOe or more, and is used extensively in rotation machinery, communications, meters and instruments, sensors and holding applications. The higher resistance to demagnetization of AlNiCo 8, cobalt content to 35%, allows this material to function well for short lengths or for length to diameter ratios of less than 2 to1.
Sintered AlNiCo magnet offers slightly lower magnetic properties but better mechanical characteristics than the cast AlNiCo materials. Sintered AlNiCo magnets are the most suitable in small sizes in this process. The sintering process is also well suited to large volume production, and results in parts which are structurally stronger than cast magnets. Relatively close tolerances can be achieved without grinding.

Temperature Characteristics
Alnico magnets offer excellent stability with respect to temperature changes. Heating may produce an irreversible loss of magnet strength. The magnitude of loss depends upon the dimensions of the magnet and its composition, but is usually less than 5%, and may be recovered by remagnetization.
Application
Electronic type power energy measuring instrument,
Traveling-wave tubes
Magnetic sensor;
Polarized relay;
Temperature and pressure controller;
Automobile;
Electric motor;
Electric guitar pickups,
Cow magnets
---
Previous:
Pot Magnets
Next:
Bonded magnets
---